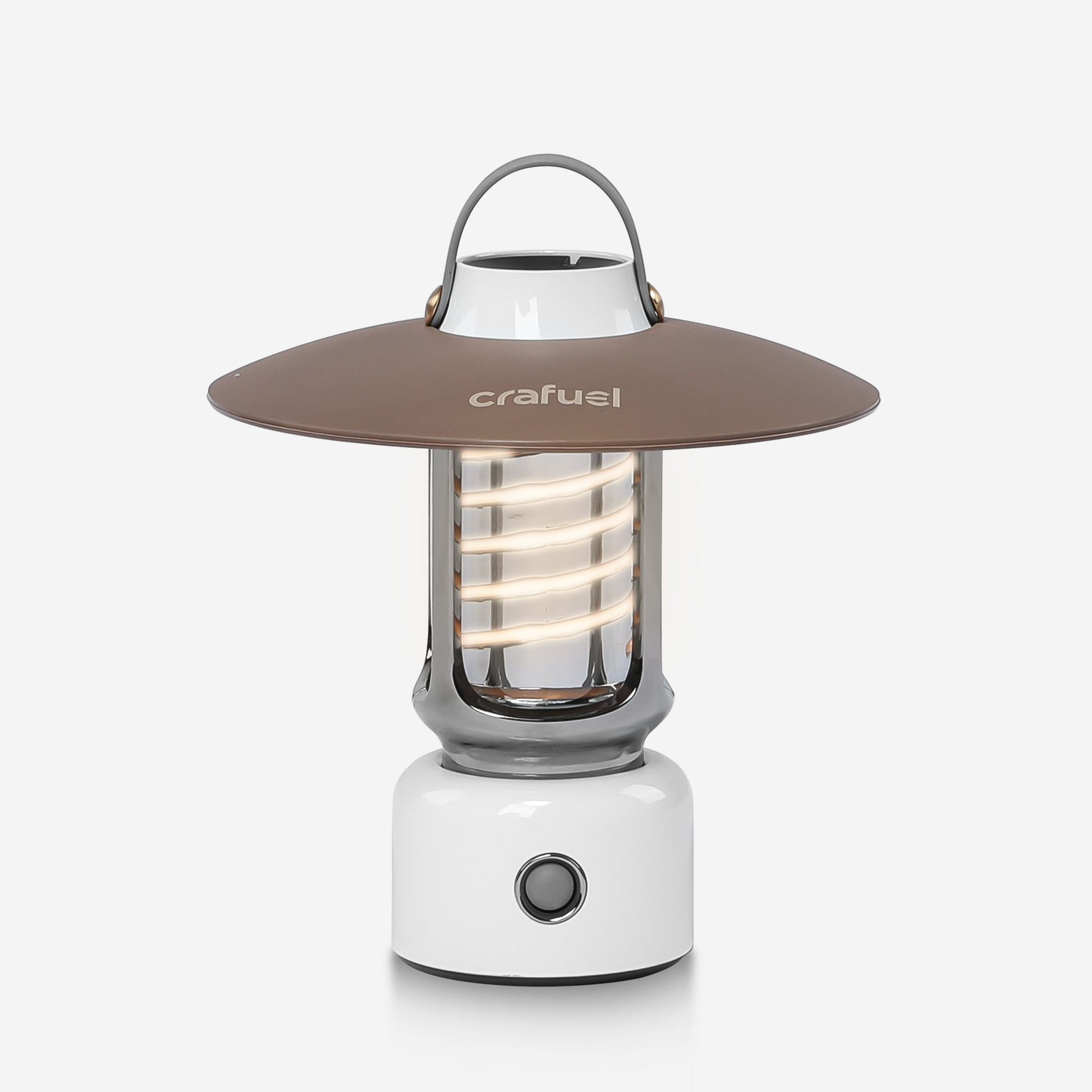 Sale price
€39.99
Regular price
€51.99
Tax included.
• 3 lighting modes: The PoleT offers 3 brightness modes with warm light, flashlight and SOS mode (13.6-61.4 lumens)
• Rechargeable battery: The lamp is equipped with a 2500mAh rechargeable Li-ion battery and a Type-C interface, which allows it to be charged in about 3 hours. Its autonomy varies from 4.5 to 12 hours depending on the brightness used.
• Compact and equipped with a stand/shade
• IPX4 waterproof
Lanterne de camping Lumos
Crafuel's camping lanterns are a great way to light up your campsite. Our camping lanterns are loaded with user-friendly features and offer a variety of brightness levels, up to 1400 lumens. Our Lumos collection is very popular as a camping accessory. With or without a stand, with or without a lampshade, use it in several ways according to your preferences. They're also water-resistant, so they can withstand the elements, and come with convenient handles and can be hung anywhere for hands-free lighting. These lanterns produce plenty of light and can run for hours without needing to be recharged.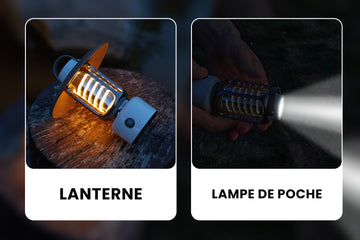 Lantern and flashlight in one
This lantern is both beautiful and unique, while being innovative and artistic. It is resistant to compression, bending, has strong stability and will not deform.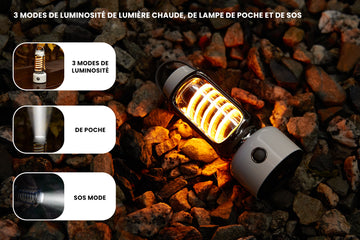 3 lighting modes
Settings are 3 brightness modes with warm light, flashlight and SOS mode (13.6-61.4LM), the perfect camping gear suitable for different needs. SOS mode for emergencies makes it easy for you to give a signal when something goes wrong in the wild or other unexpected situations, which will catch anyone's attention.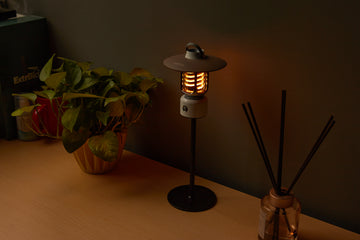 Compact and equipped with supports/shades
The camping lantern is portable size (11x5cm) and lightweight (0.36kg), cute and very convenient to have on hand. Equipped with 2 brackets, you can install 1 or 2 brackets according to your needs. The built-in handle allows for easy carrying and hanging, you can easily hang this lantern from any tree branch, camping rack or inside the tent. In addition, it is equipped with a lampshade for more comfortable use.
Discover Versatile Camping Lights
Crafuel's best-selling LED camping lights for a reason. With its brilliant rechargeable LED light and unique design style, it's the most versatile camping light on the market today, and with updated technology, it's now even better.
Light up your path, light up your life
Add a warm glow to your front door, garden, patio, porch, or outdoor living with outdoor lights from Crafuel. Made with durable, weather-resistant materials, you can count on our outdoor lights to bring you light 365 days a year.
What's more
More features than you can expect to enhance your camping light experience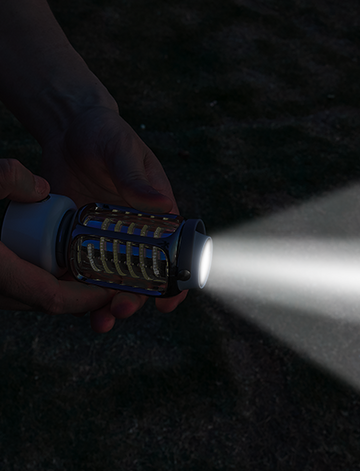 With a shade to protect the eyes or without a shade when used as a flashlight.
Capable of working as a flashlight
SPECIFICATIONS
DIAGRAMS
PACKAGING
Name
Mini Camping Lantern
Model
Lumos
Color Temperature
2200K
Brightness
I: 13.6LM II: 25.3LM III: 36.8LM IV: 61.4LM
Charging time
about 3 hours
Battery Life
about 4.5-12 hours
Light Source
LED
Battery
3.7V 2500mAh Li-ion battery
Input
5V/1A
Rated Power
2.22W
Max Power
2.5W
Lighting radius
3.5m
IR Rating
IPX4
Unit Weight
350g/0.78lb (with stand)
Unit Dimensions
5050115mm/5 *5 *11.4cm (without stand and shade)
110110294mm/4.3*4.3*29.4cm(with stand and shade)
Package Contents:
1 x Lumos Camping Lantern
1 x Charging Cable
1 x User Manual
Not the one you need?
Discover similar products
Comments
The perfect light when you need something at night.
I have a geeky shortwave radio hobby. The best listening for these faint signals on the other side of the globe is outside, at night. I need a light that is not overly bright, but most importantly, it needs to be "RF free", that is, creating no static that would cover up the otherwise weak signals. The Lumos is one of the few lamps that I have tried that is absolutely quiet in the RF environment. The design and quality are easy to spot, but for me, this is where this light really shines! (pun intended).
Recommend
I purchased this on a whim, half expecting to be underwhelmed. I was not. This little light is amazing! It's a portable, bright, warm light. I love the dimming control, the flashlight. But most of all, I just love how it looks.
It feels good in my hand, and the fact that it's also a flash light is the icing on the cake. Honestly, it is a cool little useful light that I am so happy I bought. It's an eye catcher when sitting out and a conversation piece as well. Definitely worth every penny.
Versatile Camping Lights
I'm very happy with my purchase. Lumos is a great addition to any outdoor gear collection, and their compact size and equipped stands/shades make them incredibly versatile. I would highly recommend these lights to anyone in the market for practical camping lighting solutions.