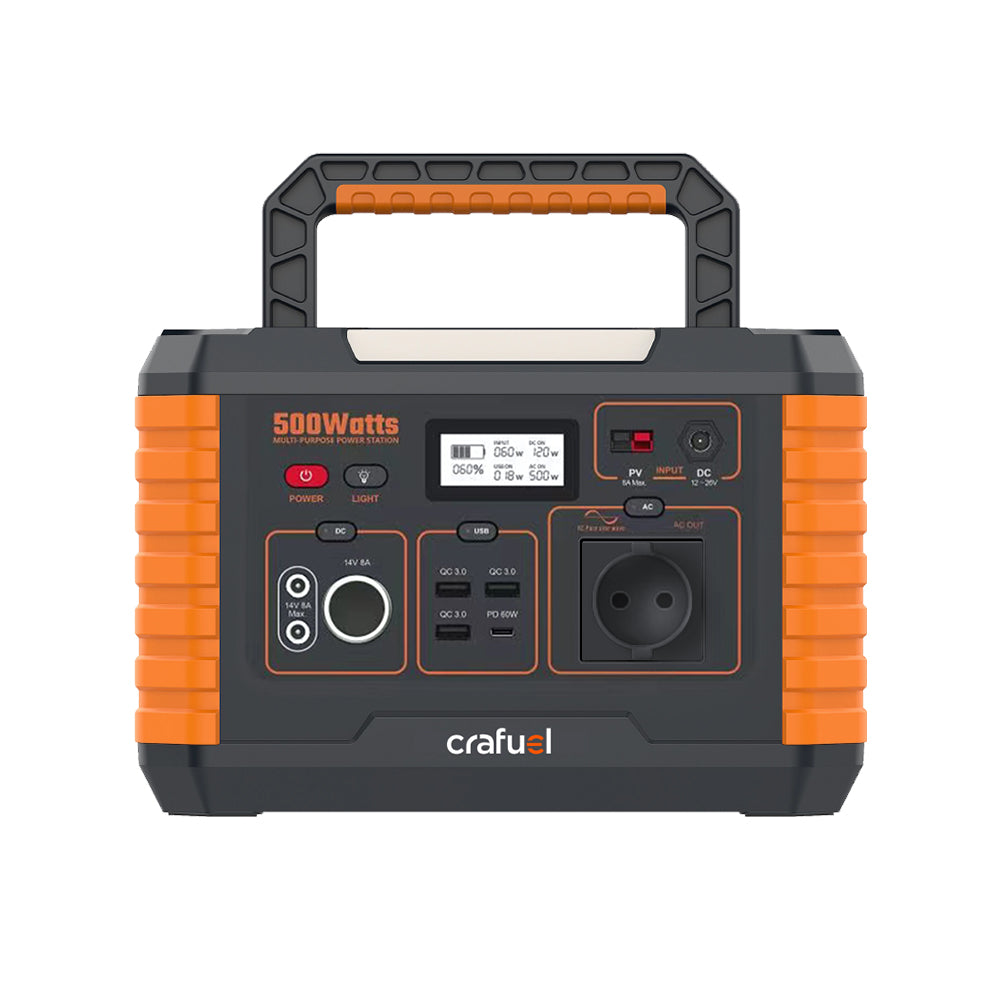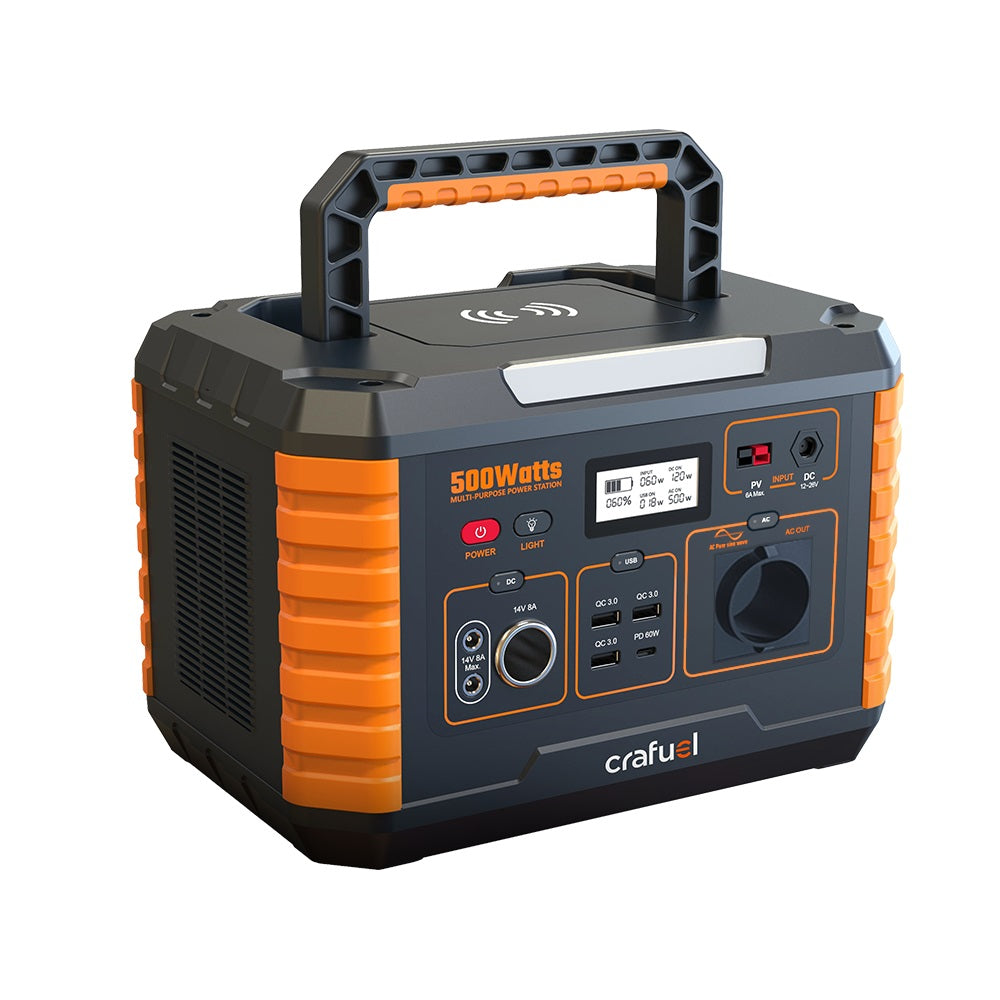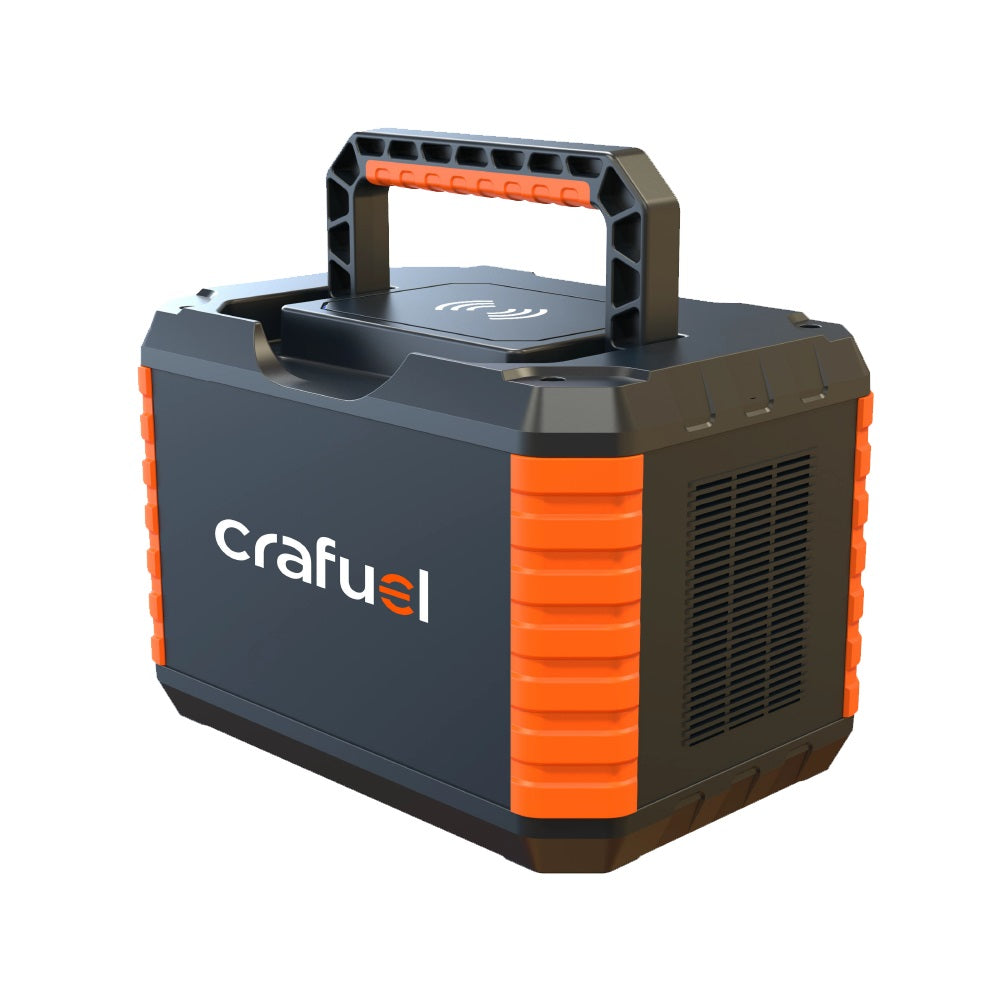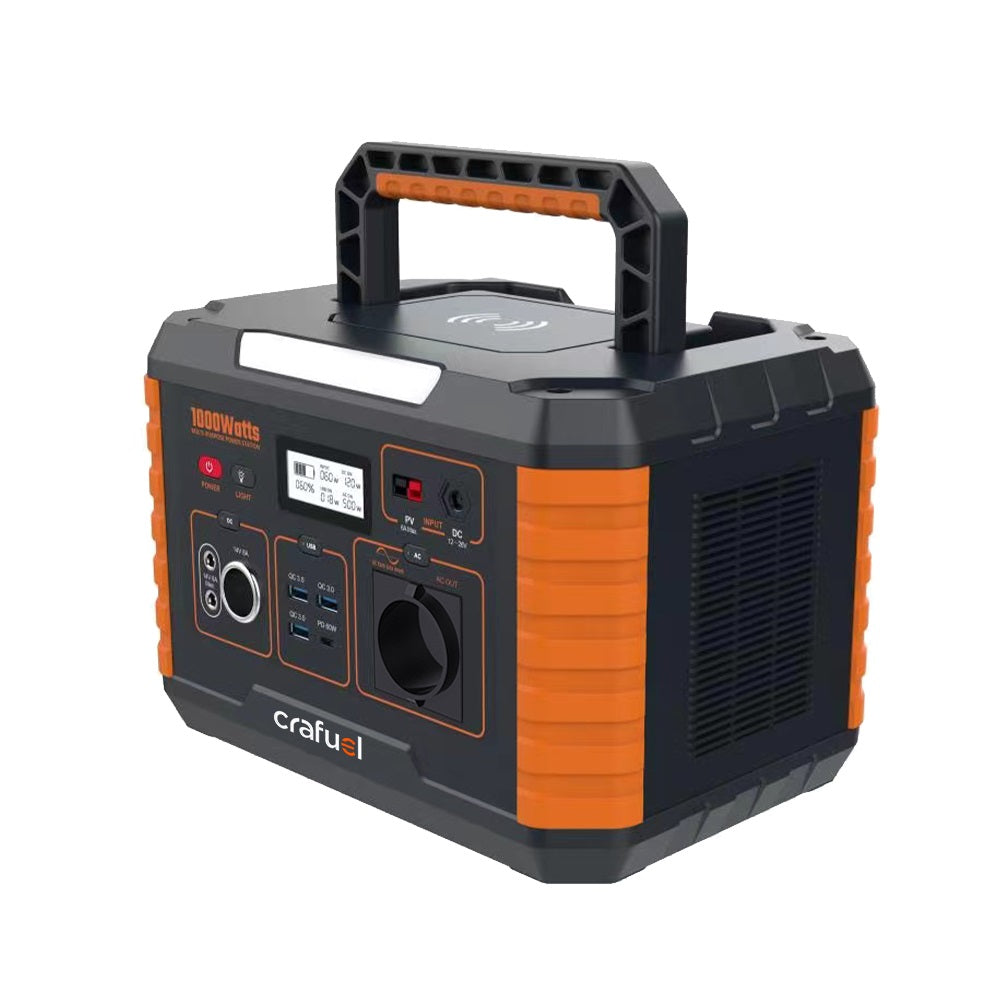 Crafuel Alto 500W Portable Power Station
Sale price
€299.99
Regular price
Tax included.
Veuillez choisir différentes spécifications en fonction de vos besoins.
Large Capacity  The Crafuel Alto 500 has a 519 watt-hour lithium battery pack. And it features 1 * AC outlet, 3 * USB ports, 2 * DC ports and 1* car port to run different applications, including GoPros, laptops and mini fridge.
The Nature of Portability  The net weight of Alto 500 is only 14.99lbs which size is about a basketball. It is light but sturdy. It's easy-caring feature makes it perfect option to bring to anywhere you prefer, from indoors to outdoors.
3 Ways to Recharge  The Alto 500 has three ways to recharge the battery, which include a wall outlet, and a car outlet. And a solar panel (sold separately) that allows quick and easy green solar recharging the PPS.
For the most demanding jobs
The Crafuel Alto 500 can power everything from smartphones to air conditioners for a long time. At home, outdoors or at work, you can trust the Alto 500 to provide you with the energy you need, whatever the circumstances.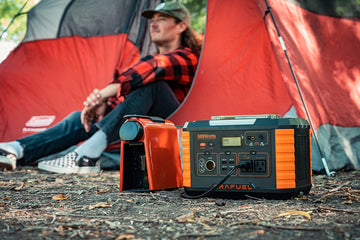 I feed everything
The Alto 500 with its 500W power can power energy-hungry devices such as hair dryers, welding equipment or even an electric car.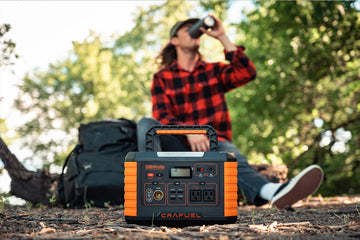 Wherever you need it
Despite its power and size, the Alto 500 is easy to transport. Take it with you wherever you need it.
Any device
With a total of 9 outlets of different types, the Alto 500 can charge almost any device you need.
Capacity 519.48Wh
Output power 500W
Power all the needs on the road
The 9 output ports will surely meet your needs of charging different devices simultaneously. A 15-watt wireless charging station on the top makes it much easier to charge cell phones. From mini fridges to LED lights, it's a great storage option for camping and emergencies.

Box Contents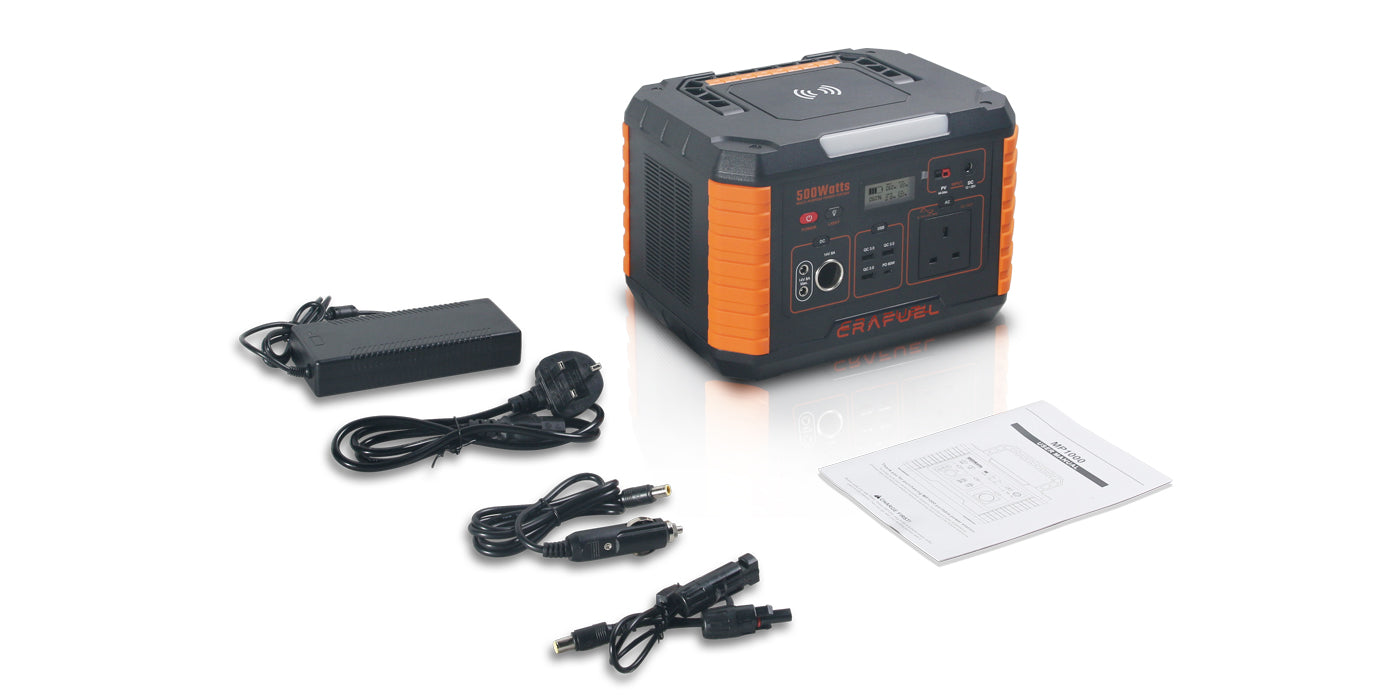 Alto 600
Capacity: 576 Wh
Life cycle: 500+ cycles
Output power: 500W
AC input: 12-26V
Solar input: 150W
€329.99
Alto 1000
Capacity: 999 Wh
Life cycle: 600+ cycles
Output power: 100W (1200W peak)
AC input: 250W max
Solar input: 200W
€599.99
Alto 2000
Capacity: 2264 Wh
Life cycle: 1000+ cycles
Output power: 2000W
AC input: 1200W max
Solar input: 600W
€1,299.99
SPECIFICATIONS
Net weight
6.8 kg
Dimensions
292mm x 202mm x 194mm
Charging temperature
0-40°C
Discharge temperature
-10-40°C
Color
Black and orange
Warranty
24 months
Charg method
AC wall outlet, 12V car adapter, solar panel
Full recharge time
AC adapter: 7.5 hours
12V car adapter: 7.5 hours
100W solar panel: 9.5 hours
Capacity
519.4 Wh
Battery technology
Lithium-ion battery
Cycle Life
500 cycles at over 60% capacity
Management systems
BMS, Over Voltage Protection, Overload Protection, Over Temperature Protection, Short Circuit Protection
AC adapter
AC 25V/4A
Recharge input voltage
12-26V
Solar charging input
200W, 10-25V DC, 12A max
Car charger
DC 12V, 100W max
AC output voltage
220V±10V/50Hz
Wireless charger
10W
USB Output
QC3.0/18W Max
Type-C Output
PD60W
Cigarette lighter socket output
14V/8A
DC5525 output
14V/8A
Please Note: The above weight, size, etc. have certain measurement errors. Please refer to the actual measurement.
FAQ
You need to check the power at each output port. For example, the power at AC output port is provided by the built-in inverter of the product, whose maximum continuous output power is 1000W. This means that it is only suitable for electronic device whose required power is no more than 1000W.
It is not permitted to take the product to the plane. Because the product is a built-in lithium battery, and in the light of the International Air Transport Standard Regulation, the power of the battery products can not be exceeded 100wh.
Model
Working Time
(According to your device you use)
Crafuel Alto 500W
518wh*0.88/device
Crafuel Alto 600W
576wh*0.88/device
Crafuel Alto 1000W
999wh*0.88/device
Crafuel Alto 1200W
1080wh*0.88/device
Crafuel Alto 2000
2264wh*0.88/device
Yes, you can keep the battery plugged in the charge. Keeping it plugged in won't cause damage to the battery.
It is acceptable that chargers get heat while charging. As long as chargers meet the safety standard, then the battery function could be ensured.
We support a variety of application scenarios such as home emergencies, outdoor camping, professional homework, etc. It can power mobile phones, computers, drones, cameras, onboard refrigerators, speakers, electric drills, chainsaws, electric vehicles, and other different types of equipment with different power interfaces. There are a lot of application scenarios that can meet your different electricity needs.
Perfect for running my C-PAP at my remote hunting camp and charging my phone.
Almost Perfect!
Love everything about this Crafuel 500W charging block… just wish it had a few more features. Would be nice to have at least one additional usbc port. Would also like to see rubberized port covers, similar to those seen on highly-protective phone cases, that would help keep the ports clear of dirt and free of light water spray. Taking this unit camping or into areas where there's no power means this thing will likely be used in dusty, messy, and potentially damp environments. Cover the ports! Otherwise, great work on making the best charging block I've seen on the market!?
good quality, and super-high value with competitive price
I purchased this 500W portable power station for a weekend camping trip and it worked great! It was able to power my lights and small fan, and the battery lasted all weekend. I like how easy it is to use and the compact size makes it easy to store when not in use. Overall, I'm very satisfied with my purchase and would recommend it to anyone who needs a portable power source for camping or outdoor activities.
Terrific!
One of the things I love about this power station is its versatility. It has multiple outlets and ports, allowing me to charge a variety of devices simultaneously, including my phone, laptop, and even other small appliances. Terrific